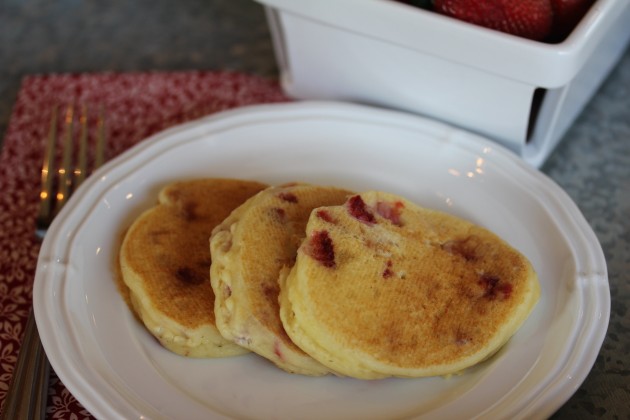 My family loves pancakes. We eat them at least once a week, sometimes more.
We love them for breakfast, but we also enjoy pancakes as a fun breakfast for dinner. These gluten free strawberries and cream pancakes are the perfect for breakfast or dinner during the summer.
Fresh fruit in pancakes makes for a quick and easy meal. And since this uses my basic gluten free baking mix, it is also an easy gluten free meal.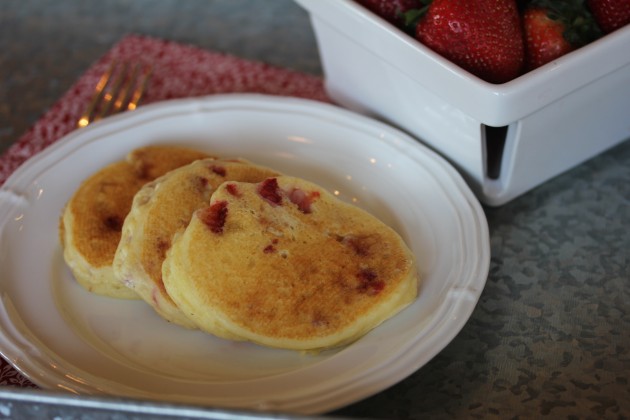 Recipe: Gluten Free Strawberries and Cream Pancakes
Summary: A quick and easy gluten free breakfast
Instructions
In a bowl combine baking mix, milk, sour cream, and eggs. Whisk together until combined.
Stir in strawberries.
Pour 1/4 cupfuls onto hot griddle. Cook until bubbles start to form, which is about 2-3 minutes.
Flip pancakes over and cook for another 2-3 minutes or until done.
Preparation time: 10 minute(s)
Cooking time: 6 minutes(s)
Number of servings (yield): 4